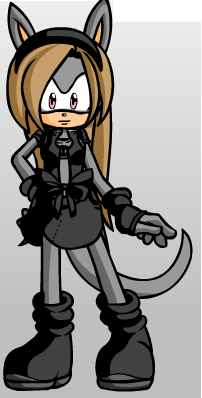 Mary is a young girl who lives in Mobius and maybe Badfoot's niece.
Friends/Allies
Sonic the Hedgehog
Miles "Tails" Prower
Knuckles the Echidna
Amy Rose
Cream the Rabbit
Klonoa the Hedgehog
Abby the Hedgehog
Lou the Hedgehog
Cici the Hedgehog
Tabitha the Cat
Oliver the Fox
Charles the Squirrel
Lewbert the Echidna
Spencer the Bird
Jur the Hedgehog
Lizzy the Hedgehog
Odie the Hedgehog
Carrie the Rabbit
Larry the Hedgehog
Lilly the Hedgehog
Luna the Hedgehog
Finn the Wolf
Emily the Seedrian
Courtney the Hedgehog
Sue the Hedgehog
King Erican the Hedgehog
Sandy the Hedgehog
April the Monkey
Dean the Rabbit
Fern the Mouse
Macy the Hedgehog
Scamper the Hedgehog
Boomer the Cat
Rachel Rose
Julliane the Fox
Kate the Fox
Earl the Fox
Eve the Fox
Brook Taylor
Nikki Roberts
John Gibson
Wendy Laser
Mia Flick
Harry Taylor
Gail the Echidna
Espio the Chameleon
Vector the Crocodile
Charmy Bee
Kark
Cammie Stewart
Sammy Nooken
Rocky the Rat
Blaze the Cat
Dun and Din Sweeloop
Susie Darknel
Mal Moungous
Swiffer Nife
Dana Solo
Werehog Ash Ketchum
Marcos the Werehog
Jill the Werehog
Stu the Werehog
Marvin the Werehog
Daniel the Werehog
Ariel the Werehog
Maggie the Werehog
Lolo the Lion
Popka the Dog
Emil Castagnier
Marta Lualdi
Clark Woodwind
Mimi Lovely
Lucille the Butterfly
Coop the Chicken
Dave the Mouse
Roger Skelewog Jr.
Lina the Dog
Jane Magenta
Toro Bobinsky
Angie
Barry the Cat
Timothy the Shark
Princess Serena the Stink Aardvark
Enemies/Rivals
Dr. Eggman
Shadow the Hedgehog
Rouge the Bat
E-123 Omega
Natalie the Hedgehog (Because of turning half-good and half-bad)
Dark Ratatosk Sonic
Avalon the Night Master
Ad blocker interference detected!
Wikia is a free-to-use site that makes money from advertising. We have a modified experience for viewers using ad blockers

Wikia is not accessible if you've made further modifications. Remove the custom ad blocker rule(s) and the page will load as expected.